Fellow:Lina Merizalde
Jump to navigation
Jump to search
Lina Merizalde is a University Innovation Fellow and an undergraduate student currently completing a Business Management major and a Design minor at Universidad de Los Andes (Uniandes). Here, Lina became part of the soccer team for 4 years, and was involved with scholarship fundraising for students in need. It was also at Uniandes where Lina was first exposed to the University Innovation Fellows initiative.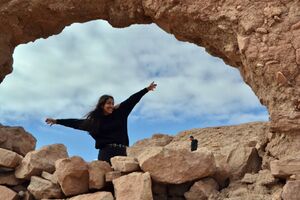 Having lived all her life in Bogotá, Colombia, Lina was exposed to the Colombian reality and felt an urge to work to improve it. For the past reason, her focuses include sustainability, innovation, and the creation of shared value. Lina has been involved in social and creative environments for many years, ranging from organizing social service activities as the NHS secretary in High School to beginning a design minor at Uniandes.
Related to Lina's interests, she has always been athletically inclined, practicing soccer, volleyball, and tennis, among other sports. In this sense, sports have helped her get to know people, experience teamwork first handedly and gain discipline. Additionally, the combination of attending and American school, a Colombian university, and her academic exchange in Paris exposed her to a variety of environments, cultures, and education systems. In this sense, on campus she is interested in helping students have better communication across disciplines and increase collaboration and feelings of community in the student body.  
Related Links: 
Universidad de Los Andes Overview
Universidad de Los Andes Student Priorities

Pitch Video (Fall 2018): https://www.youtube.com/watch?v=UFBuIJqtdi8&feature=youtu.be
Student contributors: 
---
---