Fellow:Leah Cieniawa
Jump to navigation
Jump to search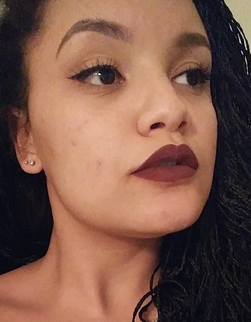 Leah Cieniawa is a University Innovation Fellow and an undergraduate student studying Communication Studies and  International Studies at Susquehanna University. Her focus in International Studies is Asian Studies. In addition, she is studying Music Technology as an undergraduate minor. Leah is from Bensalem, Pennsylvania, which is located several minutes outside of North East Philadelphia where she has grown up a majority of her life. At Susquehanna, Leah has explored numerous courses that diversified her experiences as a student. Leah was exposed to the University Innovation Fellows program after receiving an email from her astronomy professor encouraging her to utilize her academic success and apply for the fellowship.
At Susquehanna University, Leah is involved in P.I.E.R., an organization dedicated to helping students of color develop skills necessary for real-world career preparation and experience, Residence Life as a Resident Assistant, University Admissions as an outreach team member, Alpha Lambda Delta, and has participated in her campus radio station, WQSU and yearbook, The Lanthorn. In the Summer of 2018, Leah was awarded the Jay and Marsha Lemons Scholarship, which recognizes students who have excelled academically on campus. In her spare time, she is often found reading, writing, and immersing herself in her studies to become knowledgeable about new subjects outside of her academic discipline.
Growing up, Leah participated in sports such as cheerleading, soccer, softball, tennis, and swimming. She was also involved in music and theatre, spending hours playing several instruments, singing, and serving as a stage-hand and technical director in her High School theatre program. Leah is also passionate about the world, making a difference, and learning about new cultures. Although Susquehanna requires students to travel abroad to graduate, Leah has readily prepared for her upcoming trip to South Korea in 2019, utilizing her Communication and International Studies degree to further understand her academic pursuits and future career goals. At Susquehanna, Leah is interested in diversifying our existing art and culture programs on campus.
Related links
Susquehanna University Wiki Page
Susquehanna University Student Priorities
Susquehanna University - University Innovation Fellows
2015 Fellows
Ethan Eastwood  (Spring 2015)
Alexis Gargin  (Spring 2015)
Pierce Logan Perkins  (Spring 2015)
Tiffany Richards  (Spring 2015)
2016 Fellows
Hana Feiner (Fall 2016)
Aviel Stein (Fall 2016)
Rachel Tate (Fall 2016)
2017 Fellows
Tonia Hall (Fall 2017)
Alexandra Haller (Fall 2017)
Damian Munoz (Fall 2017)
Daniel Yim (Fall 2017)
2018 Fellows
Leah Cieniawa (Fall 2018)
Brianna Murphy (Fall 2018)
Joseph Morante (Fall 2018)
Kyle Williams (Fall 2018)
---
---