Fellow:Layla mortadha
Jump to navigation
Jump to search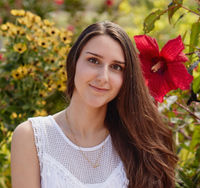 Layla is a first-year undergraduate student at the University of Tulsa. She is pursuing a Bachelor of Arts in Political Science and French Language with an emphasis on International Relations through the Global Scholars program.
At TU, Layla channels her passion for innovation and creativity through her work in TEDx and the NOVA fellowship. In her freetime, Layla enjoys studying art, music, and creative writing, often using her identity and travel experiences as a source of inspiration in her work.
Layla proves a genuine knack for equality through her involvement in TU's sexual violence prevention programming as well as her executive position in Tulsa Democrats, a club on campus that sponsors events to promote civic engagement. As the daughter of an Iraqi immigrant, Layla has a special interest in issues of immigration and international economic policy and plans to take a semester abroad in 2019. In turn, Layla's motivation to become a University Innovation Fellow stems from her belief in the private sector's role in solving our greatest global challenges.
If needed, Layla can be found wandering around public parks petting dogs, as well as local coffee shops.