Fellow:Lauren Valley
Jump to navigation
Jump to search
Lauren Valley is a 
third-year 
student at Carnegie Mellon University where she is studying Fine Arts and Physical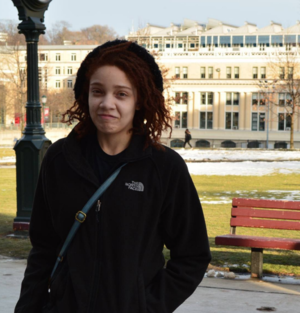 Computing.
While Lauren is traditionally a sculptor, much of her work aims to combine sculpture and robotics to create reactive systems that force the user to create symbiotic relationships with technology.
Her work has been shown in several galleries in the Pittsburgh area including the Frick Fine Arts Building, The Children's Museum of Pittsburgh, and The Spinning Plate Gallery. Her work has also been featured in the online literary magazine Hot Metal Bridge and Young Space.
Currently, she is working to promote interdisciplinary collaboration to her campus through a series of initiatives in CMU's IDeATe program. She is also working to reintroduce the arts/engineering collective, Rossum's (www.Rossums.org), to Carnegie Mellon in order to promote artists and engineers interested in mechatronic sculpture.
Related Links
Carnegie Mellon University Student Priorities
University Innovation Fellow:
Spring 2016:
Lauren Valley