Fellow:Laura Gouillon
Jump to navigation
Jump to search
Overview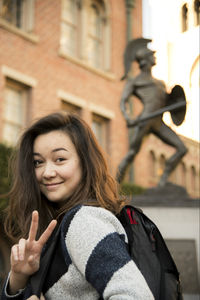 Laura is a University Innovation Fellow studying Computer Science and Entertainment Industry at the University of Southern California in Los Angeles, CA. An aspiring product developer and film producer, Laura continues to explore the intersection of culture, technology, and the visual arts in the film and music industries.
Born to French and Chinese immigrants, Laura has a multicultural perspective and brings creativity, ambition, and an open mind to every new project she takes on. In her free time, she enjoys longboarding in heels, producing music and films, playing the ukelele on the beach, and dining at LA's best eateries.
Work Experience
At the moment, Laura is currently redesigning internal productivity at Stem Disintermedia, a music industry financial tech startup in West Hollywood.  A rising entrepreneur, Laura is interested in entertainment entrepreneurship and strives to better understand how technology can revolutionize the entertainment industry.
Laura spent Summer 2016 interning as a Microsoft Explore intern (PM & Dev). Over 12 weeks, she improved the Microsoft on-boarding experience with a crowdsourced, conversational bot (AcroBOT) and Outlook add-in that simplifies corporate acronym education. Utilizing UX research, project management, telemetry tracking, and grassroots promotion skills, Laura deployed AcroBOT company-wide. Additionally, Laura wrote a blog post on Medium titled: "Ask an intern: The best advice I got from 7 Microsoft All-Stars this summer." The 20-minute read was featured on Microsoft's LinkedIn page and internal homepage, reaching 5000+ views in under a week. In it, she reflects on her conversations with employees such as Microsoft's Chief Marketing Officer chriscap.
Laura has previous internship experience at companies including Autodesk, Microsoft, and USC Marshall School of Business.
Clubs And Leadership
Laura has had significant product development experience, even winning 1st place at Stanford's TreeHacks hackathon for her VR app The Queen's Speech. She's also driven a new team of four at UCLA's LA Hacks hackathon to win Best Big Data Hack within just 48 hours of meeting her new team members. As a project leader in USC's Corpus Callosum club (engineering + art), Laura led a team of engineers and artists to create a sound-controlled videogame that challenges the notion of the typical videogame controller.
Laura continues to learn and immerse herself in the innovation landscape of Los Angeles through her participation in the City Fellows Consortium. A previous SkillsUSA National Officer, Laura has experience with keynote speaking on the topic of Career and Technical Education (CTE) advocating.
Related Links
University of Southern California Website
University of Southern California Page
University of Southern California Student Priorities Page
---
---