Fellow:Kusumitha Korrapati
Jump to navigation
Jump to search
KusumithaKorrapati is an undergraduate student studying Electronics &Communication at Raypati Venkata Rangarao &Jagrlamudi Chandramouli College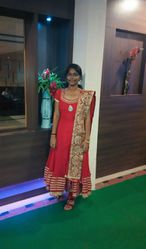 Of Engineering (R.V.R&J.C) .She has a great interest in women oriented organistaions and she is a member of a Lady Advisory Comitee (LAC).                               
                                                       Kusumitha is interested in pursuing a career in helping farmers with the latest technology present in the society and its her dream to see india as an developed country.Her summer project during her school days include a documentery about adopting  a monument to increase heritage of India.This gave her the platform to speak up to the people.Other than these she has a passion towards art.she has been passionate about painting from her childhood.
                                                        She takes an active interest in social activities and is looking forward to help even in the future.In her college she is interested in bringing in change in students mindset from the world of theories to the practical world,and it has given her the great platform by introducing her to the University of Innovation Fellowship. She is looking forward for being a member of UIF.
Leadership circle Fall 2017 -
College wiki page-
http://universityinnovation.org/wiki/R.V.R_%26_J.C_College_of_Engineering
Student Priority page-
http://universityinnovation.org/wiki/R.V.R_%26_J.C_College_of_Engineering_Student_Priorities
---
---