This site will go under maintenance from 25-11-2020 to 30-11-2020. It might not reachable during the maintenance period.
Fellow:Kevin Kraus
Jump to navigation
Jump to search
Kevin Kraus is a University Innovation Fellow Candidate from Wichita State University where he is majoring in Aerospace Engineering and minoring in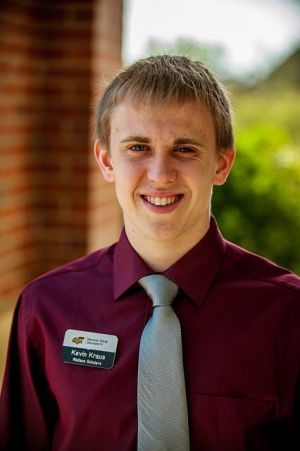 Economics and Mathematics.  On campus, Kevin is an active member of the Navigators campus ministry, the Parkour and Freerunning Club, and the Baja SAE team.  Kevin's passion for providing access to clean water in developing countries was cemented by a trip to Haiti to drill a well with Living Water International.  His current ventures include an internship working as a student engineer for GE Aviation.  In his limited free time, Kevin loves to stay active by participating in a variety of activities from CrossFit to rock climbing to parkour.  As those who know Kevin well will attest, Kevin loves gaining and sharing random knowledge as well as trying new things.
Related Links
Wichita State University Student Priorities
University Innovation Fellows
Spring 2016:
Fall 2015: