Fellow:Kenneth Brewer
Jump to navigation
Jump to search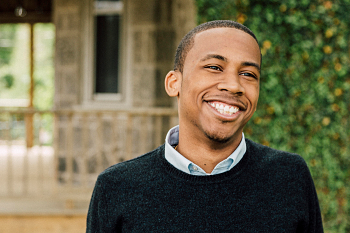 Serving as UIF Since: Spring 2015

Hometown: Harlem, NYC
School: La Salle University
What he does now: Senior Communication Consultant Analyst at Mercer, Independent Consultant, and Active UIF
What that means: As the Senior Communication Consulting Analyst at Mercer, Kenneth helps consultants develop strategies to engage and motivate clients to ensure that change is embraced and that business drivers who spearhead such change, can implement on the highest level. As an Independent Consultant, Kenneth works with clients in a variety of fields ranging from higher education to retail. As an active UIF post-graduation, Kenneth participates in all UIF activity from the Facebook group to attending Regional Meetups.  
Contact him about: Marketing and Communication Strategy, Leadership Development, Project Management, Proposal Creation, Brand Strategy, Regional Meetup Planning, Higher Administration Politics, and 'doses of inspiration.'
Email: Kbrewer.lsa@gmail.com 
Kenneth is a current University Innovation Fellow who graduated from La Salle University with a B.A. in Communication with a concentration in Public Relations and Marketing. He joined the University Innovation Fellows program to support his cohort in promoting innovation and design thinking throughout campus. 
Keneth stands by the motto "seek the drive to inspire," not only did Kenneth serve as a Fellow during his undergraduate career, but Kenneth also served as the Vice President of Business Affairs for the Student Government Association in 2014. In that same year, Kenneth joined the La Salle Enactus team, the leading entrepreneurial organizations on campus. After designing several innovative project management strategies, Kenneth was elected President and CEO. In his tenor as President and CEO, Kenneth helped the La Salle Enactus group win several national awards, making the La Salle Enactus team one of the most prestigious chapters in Pennsylvania. 
During his undergraduate career as a Fellow, Kenneth was part of the first cohort to come to fruition in 2015. Throughout 2015, Kenneth worked with his cohort to create the first makerspace on campus, located in the Connelly Library. He also helped spearhead the first entrepreneurship competition titled "Open Minds Innovation Challenge." The Competiton has been available for three consecutive years and has been a staple of Lasallian Excellence. In his senior year, Kenneth helped the La Salle UIF Team create the Northeast Regional Meetup in 2017. Kenneth will continue to support current and incoming Fellows as they embark on their prospective journey with the UIF Manifesto in mind. 
See his talk focusing on Servant Leadership from the University Innovation Fellows Silicon Valley Meetup in March 2017: 
---
---