This site will go under maintenance from 25-11-2020 to 30-11-2020. It might not reachable during the maintenance period.
Fellow:Kelly Leonard
Jump to navigation
Jump to search
Kelly Leonard is a University Innovation Fellow and an undergraduate studying marketing at Marshall University in Huntington, West Virginia. Throughout her first three years at Marshall University she focused her studies on marketing. It was not until her junior year that she found her passion for Entrepreneurship and Innovation after taking an Entrepreneurship course and then competing in two business model competitions.Kelly enjoys Innovation and Entrepreneurship because they give her the tools to help solve big challenges in today's world.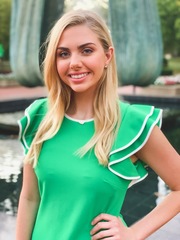 =
=
=
=
=
=
RELATED LINKS

2019 Fellows:
Kelly Leonard
---
---