This site will go under maintenance from 25-11-2020 to 30-11-2020. It might not reachable during the maintenance period.
Fellow:Keaton Wadzinski
Jump to navigation
Jump to search
Keaton is a third year student at the University of Virginia with a major in Youth and Social Innovation and a minor in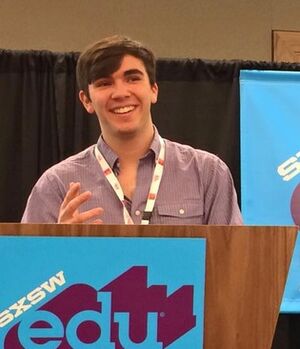 Social Entrepreneurship. Keaton is the Founder and Executive Director of ReinventED Lab, an organization aiming to unite a community of creative problem-solvers in education.
Keaton is known by his peers as "the guy who always talks about education and design thinking." Keaton has worked extensively with education nonprofits Student Voiceand 4.0 Schools. He was recently selected as a member of the inaugural cohort of 4.0's Community Catalyst program. Keaton is also on the Innovation Team Staff at Tom Tom Festival. Keaton spends his time at UVA designing and facilitating creative problem-solving sessions for local innovation groups, and has led over twelve design thinking sessions and workshops at UVA, at conferences across the country, and even abroad in London.
Related LInks
University of Virginia Student Priorities
Keaton Wadzinski