Fellow:Katelyn Morrison
Jump to navigation
Jump to search
Katelyn Morrison is an undergraduate student at the University of Pittsburgh in the School of Computing and Information. She is majoring in computer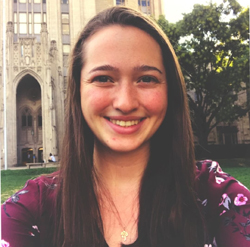 science and on track to obtain a certificate in sustainability from the Mascaro Center for Sustainable Innovation. Katelyn grew up in a small town outside of Allentown, PA and went to a small high school of a little over 400 hundred students. Katelyn was exposed to tinkering and makerspaces freshmen year of high school by her programming and calculus teachers. She spent her freshmen year of college at Moravian College on a track for secondary education and environmental science. Now, at the University of Pittsburgh, she continues her passions in computer science and sustainability while staying involved with an innovation mindset.
Katelyn actively seeks out leadership development or research opportunities. She is an officer in Spanish Club, a University Innovation Fellowship candidate, takes part in the United Nations Academic Impact Millennium Fellowship, and conducts research in computer vision. Her specific research interests align in the startup of innovation in developing communities and in the field of computational sustainability: smart cities and communities, monitoring fisheries, etc. 
In her free time, you can find Katelyn cycling around Pittsburgh, rock climbing, or hiking in Schenley Park. If she isn't out and about, she is listening to music or a podcast. Katelyn is also an avid plant caretaker for bamboo, bromeliads, succulents, and ivy.  
Related Links
University of Pittsburgh Student Priorities

University Innovation Fellows
Fall 2019:
Spring 2017:
Spring 2016:
Spring 2015:
Fall 2014:
Fall 2013:
Fall 2012:
---
---