Fellow:Kate Jankowski
Jump to navigation
Jump to search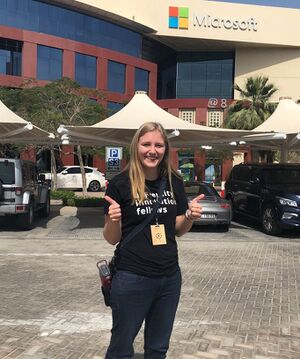 Kadee (Kate) Jankowski
Serving as UIF Since: Fall 2018
School: University of Wisconsin - Milwaukee 
What she does now: Municipal Engineering at raSmith
What that means: Designing, inspecting, and improving sanitary and storm sewers in Southeast Wisconsin!
Contact her about:  Environmental change projects, Thinker space design, time management, choosing engineering disciplines, & we can't forget, cats
Phone: [[1]] 
---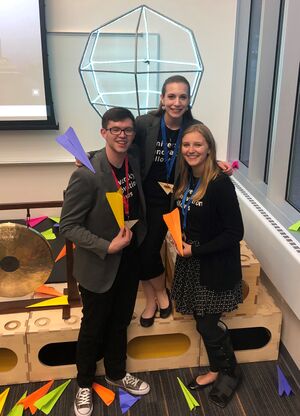 Kadee Jankowski is a graduate of the University of Wisconsin-Milwaukee studying civil engineering with a focus on work in municipal. Kate works full time as a municipal engineer for raSmith. She gets to perform sewer entries, flood neighborhoods with bright green water, and test stormwater discharge points for contaminants!
Kadee was trained as a University Innovation Fellow in Fall of 2018. She attended the Dubai meetup in Spring of 2019. During her time in school, she was part of a team that is worked to renovate a not commonly used room within the engineering building into a Thinkerspace. The room is located adjacent to the Makerspace so UWM transformed room to be more versatile room to benefit students. The UWM UIF's added a study nook, a presentation area, and a workspace that can be used for the prototyping of projects.She also worked to make a lightbulb structure for the grand opening of the UWM Lubar Entrepreneurship Center.  It ended up being a creative piece to accent the building.
While not working, Kadee spends her time singing with the Milwaukee Master Singers. She loves to rock climb and do yoga as a nice break from work. She has two cats (Snuggles & Sadie) who keep her busy while she's home.
---
Related Links:
University of Wisconsin - Milwaukee Wiki Page