Fellow:Justis Midura
Jump to navigation
Jump to search
I'm Justis Midura, a (retired) Jazz musician from New Orleans, Louisiana, and hopefully a future business owner in the clean energy industry. I am a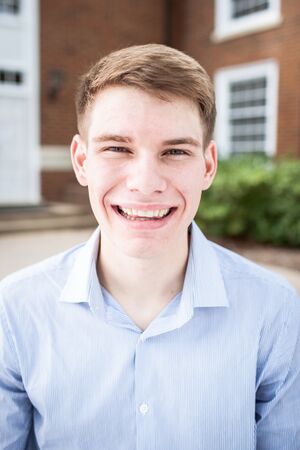 second-year systems engineer at the University of Virginia. I grew up in New Orleans, Louisiana, studied music theory since the age of 4, and enjoyed Mardi Gras and Jazz Fest every year.
In high school I studied jazz at the New Orleans Center for Creative Arts (NOCCA), the most enthralling and enjoyable institution I could imagine, where I developed a strong appreciated for loosely guided experiential learning. Rather than listening to a professor speak, students mostly played for the professors or for volunteers giving masterclasses. We messed up a lot - failed a lot. But we mostly failed forwards, learning from our mistakes and jazz faux-pas (such as stressing the 1 and 3 rather than the 2 and 4 of a measure), which proved to be a very effective teaching style.
My time at NOCCA convinced me that I shouldn't be happy with the simple college lecture style, and should push to change the ways students learn - the main reason I am involved with the University Innovation Fellows.
At UVA, I am a member of Engineering Students without Borders, and worked all of last year, and will continue to work this year, on a project for Rosa Grande, a rural community in Nicaragua with a defunct , government-installed water system. In August 2015, I traveled with four other UVa students to Rosa Grande to research the social and technical factors that caused this system to fail. Our research will help us prevent system failures like this from happening to other communities in Nicaragua in the future. Along with our research, we worked with the NGO Bridges to Community to build latrines and stoves in households in Rosa Grande.
I spend my time in Charlottesville, Virginia doing work (both for school and independent projects), working out, playing soccer, and practicing bass. I also spend a good bit of time missing my mom because I am a total mama's boy.
Related LInks
University of Virginia Student Priorities
Justis Midura