Fellow:Justin davis
Jump to navigation
Jump to search
Serving as UIF since: Fall 2018 Candidate
School: University of Wisconsin - Milwaukee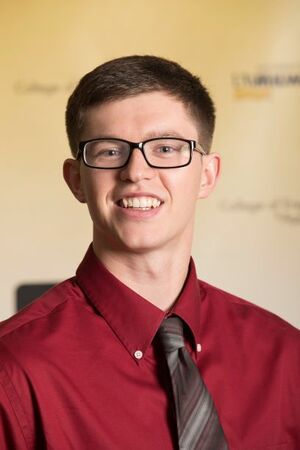 What he does now:Fifth Year Mechanical Engineering student with aBachelor's of Science in Physics
What that means: Focusing on energy management solutions while also following his passion of design thinking 
Contact him about: Energy and energy management, makerspace ideas, club outreach solutions
Email: davisjp@uwm.edu
Phone: (507)-271-0265
Justin Davis, originally from Rochester, Minnesota, is a University Innovation Fellow from the Fall 2018 cohort. He is a fifth year undergraduate at the Univeristy of Wisconsin - Milwaukee studying mechanical engineering. He is a second degree student having completed a Bachelor's of Science in Physics from the University of Wisconisn - La Crosse in spring of 2018. 
Justin has been an officer of the campus' Prototyping Club for a year, serving as the clubs' treasurer for one semester. The club was in a makerspace originally designed by UIF from the campus and recently received a $100,000 upgrade from the college of engineering and applied sciences. He has organized fundraisers for the club along with managing costs and applying for grants. 
In the UWM engineering and mathematical sciences building, he is part of a team of Uinversity Innovation Fellows that is working on a project to renovate a room that is not accessible to all students. The room is located next to the recently renovated makerspace and will serve as a space for group activities, club meetings, a classroom and a relaxing study area. 
Related Links: 
University_of_Wisconsin_Milwaukee