Fellow:Jordan Lym
Jump to navigation
Jump to search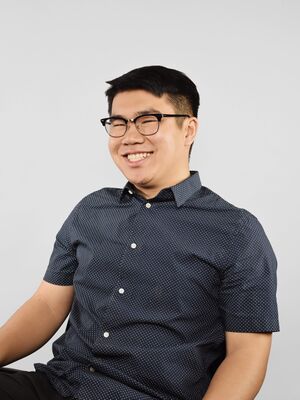 Jordan Lym is a University Innovation Fellow Candidate from Design Bloc at Georgia Tech. He is currently majoring in Industrial Design and minoring in Computing and Devices.
What started with graphic design, Jordan started to develop his own design process in the eighth grade with his own custom sock business. As he moved to high school, he learned more about composition, color and visual language in his graphic design class. But when he started his college search, he was tied between engineering and graphic design because of the career paths he would take. Luckily, a newly renovated Makerspace opened up at his highschool full of rapid prototyping tools such as 3D printers and laser cutters. Thanks to this spaceand its facilitatorhe was able to grow his passion for making. Through many projects he built in the Makerspace, Jordan developed his design process to include rapid ideation, experimentation and user testing. His experience in the Makerspace led him to Industrial Design at Georgia Tech. In the past year, he has expanded his own design process to include empathy, contextual awareness and creative craft, which he now applies to all of his design work. As he continues to learn more about the complexities of the design process through his major and Design Bloc, he hopes to become an interaction designer who focuses on generating physical experiences using devices. 
If Jordan isn't sleeping or working in studio, here are some places you may find him. He might be speeding on his bike around Atlanta or helping people fix their bikes at GT Starter Bikes. He is always looking to upgrade his junky bike, but he is a broke college student so donations to buy better parts would be much appreciated (venmo @yyoordan). If he isn't there, then he might also be at the beach volleyball courts playing volleyball with his friends. If you still can't find him, I really have no clue where else he would be at. I apologize.
---
---