Fellow:Jen Schlegel
Jump to navigation
Jump to search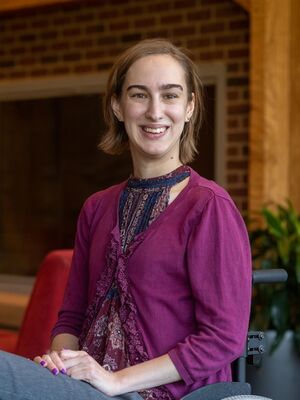 Jen Schlegel is a University Innovation Fellow, a Biomedical Engineering student at The Ohio State University, and a certified ADA/504 Coordinator. After finishing her Bachelor's she plans to continue to get a Masters in Medical Product Design while initializing a mobility/accessibility focused engineering firm. Jen's ultimate dream is to become a neurologist and she's a maker/creator/inventor with a life-long goal of improving people's quality of life. 
In 2019, Jen won The Ohio State University's Student Life Disability Services Outstanding Student Advocate Award, which honors students who act as exemplary advocates for disability access and inclusion on campus. In 2018 she won the Techhub Grant for HandikAPP; A touchscreen platform to give limited-to-no dexterity users access to advanced coding capabilities. In March 2019 she won the The Wexner Medical Center Brain Health Hack with an application for better medical response to chronic health instances. She was also a finalist in the Toyota Mobility Project in 2015 for an Application to improve indoor mobility for people with disabilities, a runner up in the IMR Innovat-o-thon in 2018 and placed third in the Business Builders Club IdeaPitch in April 2019. Jen is currently one of five finalists for the OSU President's Prize. 
She has been an member of the OnRamp Accelerator Program at OSU, and a project leader for the Medical Innovation Club with sponsorships from the Innovation Studio. She is also a project leader for Engineers for Community Service, where they design and build custom bikes for children with disabilities. Other projects include: Go-Go Thimble (A writing/stylus device that fits on a finger to improve writing capabilities for people with limited dexterity) HereTo (a robotic smart whiteboard system that assists people with disabilities better access to group meetings and collaborations), Vanishing Cabinet (a furniture concept to give greater storage options to people with disabilities), Handicom (touchscreen platform that assists limited to no dexterity users access to a collaborative workspace), Convertible Rollator Project (advances a convertible rollator/wheelchair to include a power wheelchair option for users with unpredictable mobility needs), and BeEnabled (a conceptualization of the future of paratransit systems).
Related Links
2019 Ohio State UIF Cohort 
The Ohio State University UIF Program 
---
---