Fellow:Jemma Siegel
Jump to navigation
Jump to search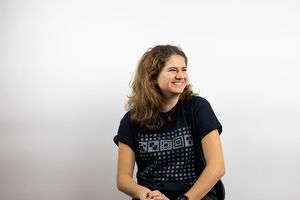 Name

Jemma Siegel

School (Cohort)

Georgia Institute of Technology (2022 cohort)

Majoring in

Industrial Design

Country

United States

Email
Bio
Jemma is currently a second-year Industrial Design Student at the Georgia Institute of Technology. She first discovered her love for design in high school thanks to a class on Design Thinking, and hasn't looked back since. While she has a passion for furniture design and physical prototyping, she'll be the first to tell you that she has absolutely no idea where her career may lead!
At Georgia Tech, Jemma is on the staff of Design Bloc, a design collaborative run by professor Wayne Li. She is also creative director of 3484, the political magazine on campus, and acts as co-chair of the Hillel social committee.
Aside from her academic pursuits, Jemma can often be found bike riding along the Atlanta Beltline, paddle boarding in the Long Island Sound, or napping in a stray spot of sun on the ground. She's been an artist her whole life, and primarily makes works in her preferred medium of linocut prints. She loves a good book or podcast - as of today, she's listening to 99% Invisible with Roman Mars, and working through Children of Dune by Frank Herbert.
Achievements
#1 most fun-haver (I made this one up)
National Honorable Mention for the NCWIT Aspirations in Computing Award in high school! (Jemma is not a CS major nor aspires to be one these days... sorry!)
Georgia Tech Faculty Honors 2022 (Largely irrelevant! Thanks for reading this far though)
Social media profiles
Look up "Jemma Siegel" on linkedin if you'd like to connect with her! If you do, please send a message!
If you'd rather follow up on the 'gram, her handle is @jemmaseagull.
---
---