Fellow:Jeff Zhao
Jump to navigation
Jump to search
Jeffrey (Jeff) Zhao is a sophomore Mechanical Engineering student at Texas A&M University. He is a maker and hacker who attends conventions, builds replica props,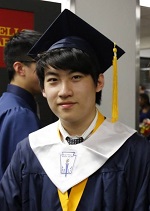 and participates in hackathons & competitions. One of Jeff's favorite hobbys is prop-making; he builds costumes and props to wear to conventions, and uses his engineering skills to do so. He has built an Iron Man suit with 3D modeling & printing, microcontrollers, LEDs, circuits, and soldering.
Jeff has participated in, and won, a few hackathons and competitions. Working with teammates, Jeff has helped build a stock-picker app, as well as a team builder app. Jeff will also be participating in PennApps, the largest and most prestigious student hackathon. Through the experience he gained from creating the team-builder app, Jeff pitched the idea in the 'Raymond Ideas Challenge' and won an Honorable Mention award.
In the previous few years, Jeff has worked for two different professors: Dr. Witold Brostow, of LAPOM, and Dr. Yong-Joe Kim, of ASPL. Jeff completed various research tasks for these professors, and learned a lot of new skills.
Lastly, Jeff has a lot of random hobbies:
Drawing
Modeling/making things with his 3d printer
Skating
Playing video games
Investing 
Related Links
Texas A&M Student Priorities Part II
Jeffrey Zhao