Fellow:Jackson Young
Jump to navigation
Jump to search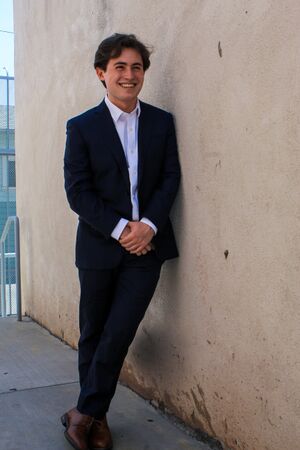 Name

Jackson Young

School (Cohort)

University of Southern California (2021 cohort)

Majoring in

Business Administration

Country

United States

Email
Bio
Jackson Young is a senior at the University of Southern California in Los Angeles, California studying business administration. His time spent in Los Angeles has been focused primarily on studying the intersection of human-centered design and business, researching design thinking methods for business innovation and developments in digital currencies for global development. On campus, Jackson is the president of USC's Marshall Case Team, their international case competition organization, and USC's Business Technology Group, a pro-bono design thinking consulting organization.
Jackson became a University Innovation Fellow in the Fall of 2021 and has focused his efforts on exploring how design thinking can be taught in undergraduate business education. As president of Business Technology Group (BTG), Jackson expanded the club into an externally-facing "Innovation Consulting" position, bringing in five of his professional clients, training 60+ members with Stanford's design thinking resources, and hosting speaker events to 1000+ undergraduate attendees. Since then, BTG has remained as one of USC's premier organizations for consulting and entrepreneurship, as well as one of the only undergraduate clubs focused on innovation consulting in the nation.
During the past summers, Jackson has internship experiences working in management consulting, emerging technology research, and growth strategy. He spent the Summer of 2021 working at Gates Ventures, Bill Gates' Executive Office, where he helped prepare a consulting session for Bill on digital currencies for global development. He used this internship as a basis for his undergraduate thesis, which is currently proposed as: "Using Distributed Ledger Technology and Centralized Digital Currencies for Global Development: An Analysis of Quality of Life Improvements." In the Summer of 2022, Jackson will be working at PricewaterhouseCoopers, LLP in their Los Angeles M&A division.
In March of 2022, Jackson and his UIF team travelled to Stanford to attend their Silicon Valley Meetup, taking classes on designing for belonging, developing online perspectives through emerging technologies, and graduate studies at Stanford.
In the future, Jackson hopes to pursue strategy or innovation consulting, specifically exploring careers in human-centered design and the development of digital currencies.
Achievements
Jackson's academic accomplishments include being a recipient of USC's Dean's Fund Endowed Scholarship and the Oregon Regional Alumni Scholarship. He was also selected by USC Marshall's Vice Dean to pursue an undergraduate thesis under the Data Science and Operations Department, is a 6-time Dean's List recipient, and is a Peer Career Advisor.
Social media profiles
https://www.linkedin.com/in/jackson-young/
---
---