Fellow:Harrison Lin
Jump to navigation
Jump to search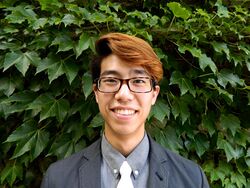 Originally from Dallas, I am a Mechanical Engineering Student at Rice University slated to graduate May 2018. My interests include human-centered design thinking, product engineering design, and environmental sustainability. My dream is to impact people's lives for the better through thoughtful, responsible, and passionate creation. 
There's a certain food for the soul found in aesthetics. Studying the nature of form, function, aesthetic, and beauty drives me. Living a life complacent and ignorant of the incredible testaments to human creation seems almost unbearable. My studies in Mechanical Engineering inform my drive to create beautiful, meaningful objects.
My work, both individually and in teams, is a cumulative reflection and crossroads of the multitude of minute design decisions made during the entire process. My body of work centers around minimalistic design - attempting to combine form and function; beauty and utility. I take inspiration from artists like Isamu Noguchi, the Eames couple, and Maya Lin. Engineers like Santiago Calatrava and Horacio Pagani. Designers like Jony Ives and James Dyson.
Through kindling emotion, eliciting interpretation, or evoking contemplation, I create meaning, and consequently succeed as a designer, artist, and engineer. I strive to be a diverse and critical thinker with the skills to tackle future societal issues such as sustainability, energy, environment, planned obsolescense, and waste. By emotionally and conceptually affirming the twists and turns of our world through art, methodically planning and empathizing through design, and physically and materially ameliorating suffering through engineering, I hope to consequently pursue the higher goal of instigating change in this world for the better.
My portfolio is linked here: harrisonlin.com
Related Links



Rice University Student Priorities
My partner Nishant Verma's profile page is linked here:
---
---