Fellow:Haleema Mulla Bakhsh
Jump to navigation
Jump to search
Haleema Mulla Bakhsh is a University Innovation Fellow and an undergraduate student studying Business Management at Abu Dhabi University (ADU). Her focus in the major is Change, Human resource, Entrepreneurship Management. Haleema Mulla Bakhsh is a University Innovation Fellow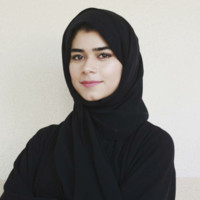 After exploring the importance of education and realizing its need, she decided to join Abu Dhabi University. There she participated in most of the activities and her friends and faculty found her ideal for the University innovation fellows program.
She has been a tutor for many of the university courses at the university and is an active member of sports club, arts and crafts club. She has also served as a member of student council on her campus and played a role of a community service coordinator for over a year. She has also participated in the professional leadership program conducted by the university.
At a young age she was more inclined towards designing and cultivated her skills in henna designing at her school. At the university, along with her group members, she had won 2nd place at the stock market competition against different university from all over the country. In 2017, she was selected candidate for scholarship by the Unilever under the fair and lovely foundation scholarship program in the UAE.
She is highly passionate about making students and employee experience better through the management system served at many organizations. Therefore, alongside her education she's worked full time to apply the theoretical knowledge from classrooms to the real world. She believes there is so much yet to be learned.
---
---