Fellow:Graham Leslie
Jump to navigation
Jump to search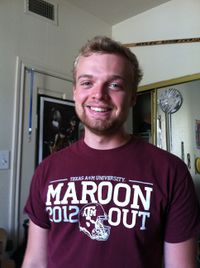 Graham Leslie is a Computer Science major at Texas A&M University in the Class of 2015 (Gig 'em!). He has varied experience in his two main fields of interest with two years in the oilfield industry and one year in the healthcare / biomedical industry. Graham's current entrepreneurial venture is his startup Notequill, a free note taking and social tool tailored for students.
When he's not between his statup or classes, Graham enjoys a little bit of everything. He DJs and produces a little electronic music, he wrenches on and drives the heck out of his old Explorer as an officer of the Texas A&M Off Road Club [1][2] (which sometimes goes poorly [3][4]), he plays some tunes on the guitar and some beats on the drums, and he enjoys spending some good time outdoors in the beautiful state of Texas.
Graham is looking to make some big changes at A&M. He's driven by the incredible support and guidance he was given when he first decided to start his own company, and he wants to enable every one of the fifty thousand students at his university to have their own opportunity to build their big idea.
You can learn more about Graham on his LinkedIn profile or contact him by visiting his website at gleslie.com.

http://www.slideshare.net/slideshow/embed_code/26599411|Student_Changemakers]]