Fellow:Gayatri Vishnubhatla
Jump to navigation
Jump to search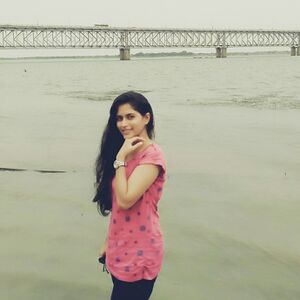 Gayatri Vishnubhatla is a University Innovation Fellow and presently an Undergraduate student of Technology in the branch of  Electronics and Communication Engineering in School of Engineering and Technology, Sri Padmavathi Mahila Viswavidyalayam,Tirupati.
She is a native of Tirupati, a town of Andhra Pradesh state in India. Being a native of tirupati, there itself she completed her schooling as a topper. She  was School Pupil Leader  and  won outstanding student award too. Further she completed her Intermediate with good meritorious academic record in the stream of Mathematics , Physics and Chemistry. Later, to till date, she is at Sri Padmavathi Mahila Viswavidhyalayam since 2015.
For many cultural and technical events she performed as an anchor as it counts one of her habits right from her schooling. She was a Class Representative for whole the year and even stood as a  student co-ordinator for some  technical workshops in the University.

As  an active Sevadal Member of Sri Sathya Sai Seva Organisation. She  participated in social service programs like Medical camps, food donation, conducting clases on Human values for school children in schools and villages.
Being much interested she  participated in many innovative quiz competitions. In her spare times, she used to make craft works, thread jewellery with colour papers and silk threads and other waste materials and  re-cycling products. 
From her tender  age she is much  talented in various fields like dance and sports. She is a Classical Dancer in Kuchupudi style, the traditional dance of Andhra Pradesh. And it made her to  give many dance  performances on different stages. Her active participation in sports and college activities, since her school days brought her many prizes.
Related Links
MORE ABOUT COLLEGE CAN BE OBTAINED IN THE BELOW GIVEN LINKS: https://docs.google.com/spreadsheets/d/12lVAnWRmD4QLPiOGZObXOtDs-z590IhR2HCLK4xD8HU/edit#gid=0
https://drive.google.com/drive/folders/0B-qyeTnzRf...
https://docs.google.com/spreadsheets/d/12lVAnWRmD4QLPiOGZObXOtDs-z590IhR2HCLK4xD8HU/edit#gid=0
UIF fellows in sri padmavathi mahila university and their wiki:
http://universityinnovation.org/wiki/Roshini_chowdary
http://universityinnovation.org/wiki/Mounika_Arekapudi
http://universityinnovation.org/wiki/Paleti_Pavani
http://universityinnovation.org/wiki/Bhavana_Abburi
FALL 2017 UIF
http://universityinnovation.org/wiki/Pyla_keerthana
http://universityinnovation.org/wiki/Gayatri_Vishnubhatla
http://universityinnovation.org/wiki/Dantu_Mahathi
http://universityinnovation.org/wiki/Veluri_Thanusha
Campus Overview:
http://universityinnovation.org/wiki/Sri_padmavathi_mahila_viswa_vidhyalayam
Our college pitch video:
https://www.youtube.com/watch?v=85OuYqTVw1g
---
---