Fellow:Gabe Walker
Jump to navigation
Jump to search
Introduction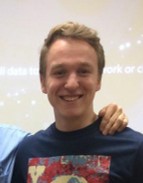 I'm a student, a hard worker, a family man, and nothing matters more to me than living by integrity and providing the best version of myself to future employers. I seek to obtain not only professional excellence, but also to achieve personal excellence.
As an Experience Design and Management student at Brigham Young University (BYU), I am always looking for new opportunities to grow and stretch myself, whether that means taking a class on ancient literature, or spending a minimum of 7 hours a week working as an intern for a nonprofit. University attendance is one of the greatest opportunities to reach out, grow, expand your knowledge and become a better person and in my time at BYU I have taken advantage of as many opportunities as possible.
I am no stranger to work, and I have consistently proven that I am willing to learn new skills in order to fulfill the mission of my employers. I've learned how to process and ship beauty products while working physical labor in a warehouse, but I have also learned how to work with power monitoring equipment and computer software while working as an intern for Los Alamos National Lab. My work experience is varied and I have always proven my willingness to not only learn new skills but to apply them.
The foundations for my current work ethic is grounded in my family life. My roots are taken back to hardworking grandparents and extremely skilled parents. As the youngest in a family of 8 children, and as a newly married husband, I have been forced to learn not only how to "carry my own weight", but how to carry it well. The fundamental values of integrity and hard work have been a shaping guide to my life, and I am not afraid to speak up for what is true and what is right in the workplace.
Additional Resources
BYU Landscape Canvas

Brigham Young University


BYU Innovation Fellows
Fall 2018 cohort
Dallas Anderson
Rachel Merrill
Ashley Paget
Gabe Walker
---
---