Fellow:Esther Funez
Jump to navigation
Jump to search
Serving as UIF Since: Spring 2018
School: Menlo College[1]
What she does now: Actively seeking full-time employment opportunities.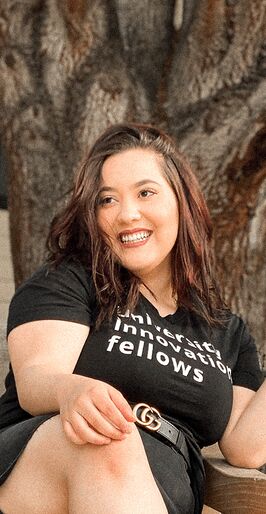 What that means:  A dynamic individual with a diverse range of transferable skills who would be a great asset to any company.
Contact her about: Anything, I am here for you for whatever you need! And if I can't help, I'll point you in the right direction.
Email: estheryfunez@gmail.com or esther.funez@menlo.edu
Phoneː 209-361-7186
About Esther:
Esther Funez is a recent Menlo College alumna. At Menlo College, Funez pursued a Bachelor of Arts in Psychology. Throughout her undergraduate collegiate experience, Funez immersed herself in the incredible opportunities Menlo College provides for its students. Her freshman year Funez joined the UIF family!
Her UIF involvement and on-campus experience led her to become a part of a Marketing Campaign led by American strategic marketing and communications entrepreneur, Andy Cunnigham[1]. In this course, she learned and gained a deep understanding of fundamental marketing concepts, and alongside her peers- built a marketing campaign with Alumni engagement focus.
Funez was also a part of the student-led incentives on campus, such as Techstars Startup Weekend[2]. Additionally, alongside three other peers, relaunched the Rotaract Club [3]at Menlo College! Funez also served as Resident Assistant[4], where alongside 18 other RA's they established a positive community with 60+ residential students with a focus on personal and educational development through diversity, health, and self-care. Furthermore, followed by her involvement on the crisis response team, which maintained student safety by counseling, advising, and enforcing Menlo College Residential Housing Policies.
 Values & Motivatorsː
Funez was born in the third world country of Honduras, wherein the pursuit of the American Dream, at the age of five, her mother relocated them both to California. At a very young age, she learned the values of hard work, how big you dream, and how much time you're willing to persevere. Driven by these values, she is living the best version of her American Dream. Esther is a firm believer that the American Dream isn't defined by how many things you can own or how much money you can make but by instead learning every day, being empathetic, and impacting the lives of those around her.

---
---