Fellow:Eric Muchisky
Jump to navigation
Jump to search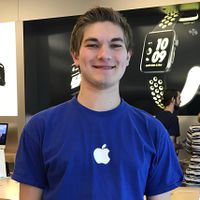 Eric Muchisky is currently a sophomore at Loyola University Maryland. He is pursuing a Bachelor of Science in Engineering with a Concentration in Computer Engineering. Eric is proud to be one of Loyola's first cohort of 3 University Innovation Fellows.
Eric is interested in the design of consumer electronics such as Apple iPhone and MacBook and believes that passionate engineers can make a difference in the world. Through the use of carefully contructed designs in software and hardware, engineers can greatly enrich people's lives by connecting us in positive ways. This kind of innovation only happens when passionate people come together to build for a greater cause.
Eric is also interested in the national security and defense industry. In order to combat the everyday threats that face citizens of the United States and other countries throughout the globe, there is a need for innovative and collaborative work to provide new solutions and technology which will keep us safe.
Eric enjoys helping others to troubleshoot computer issues, filming and editing video, playing video games, skiing, and has experience with live theater sound mixing.
Related Links

Spring 2017 Fellows:
Eric Muchisky
---
---