Fellow:Elliot Roth
Jump to navigation
Jump to search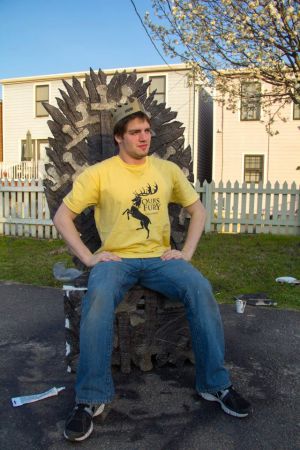 Elliot Roth is one of the University Innovation Fellows from Virginia Commonwealth University. He was trained in the fall of 2012 and inducted in the spring of 2013.  Elliot has worked diligently since then to improve his campus's entrepreneurial ecosystem. He helped start four different student entrepreneurship organizations each with a distinct focus on different realms of activity. Seed focused on product-based entrepreneurship, Startup VCU focused on technology and service-based startups, Artup focused on marketing and consulting, and Net Impact covered social entrepreneurship. He later led Seed as president which at its peak had 60 members, weekly entrepreneurial workshops, and numerous larger events including Startup Trips and Startup Weekends. 
Through Seed, Elliot got involved in numerous consulting opportunities, hosting launch events for HBO, building websites for clients, and prototyping medical equipment.
Due to the lack of university support, most of the entrepreneurial organizations (except for Startup VCU) closed down after fall of 2015.
During that time, Elliot founded and led the first TEDx event at VCU. The event was held at the historic Landmark Theater in Richmond with 1,000 attendees, a team of 40 volunteers and a planning team of 22. There were 14 speakers during the day-long event and Elliot helped raise over $35,000 for the conference. It was held during the citywide marathon and he worked to coordinate 6 food trucks to the venue while the surrounding streets were shut down. The event is now in its third year.
Elliot has been involved in numerous startups. He placed 3rd and 1st in the schoolwide venture competition in 2014 for a GoogleGlass music app and a dynamic medical wheelchair cushion, Cush. Cush later went on to win the entrepreneurship cup and the people's choice award at the i.e. citywide venture contest. The following year, Elliot placed 3rd and 2nd in the venture contest for ViV, a mycological construction material, and Indie Lab, a nonprofit community science laboratory.
Indie Lab is a certified 501(c)3 and has expanded to include 12 members and recently opened up an 800sq ft space. It helps biotech, physics and chemistry startups build their businesses in a low-risk environment by giving them access to shared equipment and resources.
During school he received two VCUarts grants for projects; the first was $5,000 for a synesthetic art installation that debuted at InLight Richmond. It received an honorarium of $300 and changed motion into sound and sound into light. It incorporated over 1,000 ft of RGB LEDs, 12 microcontrollers, over 30 sensors and 24 speakers all of which viewers could interact with. The structure was 10' x 10' x 25' long and was a collaborative project with 9 different artists and engineers. Elliot's second arts grant was an award of $3,200 which led to ViV, a biotech project that explored replacement construction materials using mushrooms.
Recently, Elliot was accepted into the IndieBio (now RebelBio) accelerator program in Cork, Ireland. He received $100,000 ($50,000 capital/$50,000 in-kind services) investment for his company Spira, which grows microalgae as a means of fighting malnutrition globally. Spira spent 3 months in Ireland, then returned to the United States for Lighthouse Labs, a grant funded program that gave Spira $20,000 to set up in Richmond, Virginia. Spira is developing two food products using spirulina; a protein powder and live culture beverage. Spirulina is the most efficient means of growing nutrition in the world, doubling daily and only requiring air, water, light and a few salts to grow. After additional testing, the team plans to release their first products in the spring of this year.
In his free time Elliot writes and does artwork. He recently published a book of poetry and muses on science topics on Medium.