Fellow:Devin Mcmahon
Jump to navigation
Jump to search
Devin McMahon is currently training to become a University Innovation Fellow. She is a junior at the University of New Hampshire pursuing her bachelor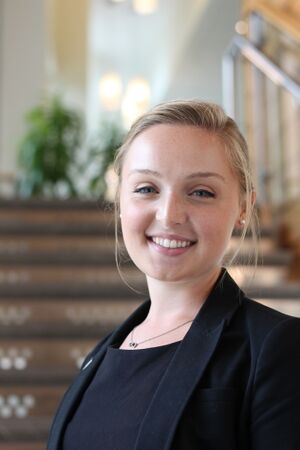 of science in Business Administration with an option in Marketing. Devin grew up in Hampstead, NH and is the oldest of five kids. She enjoys traveling the world with her close-knit family, having traveled to more than 25 countries and 18 states. With a multi-cultural family and her experience with travel, she values the perspective that people from all walks of life are able to bring to the table.
In 2012, at fifteen years old, Devin traveled to Ethiopia for the first time. There, she gained a valuable perspective and realized her drive to make a positive impact on the international education system. By the following summer, she had founded her first non-profit with the vision of supporting education in rural Ethiopia as a way to break the poverty cycle and encourage development within those communities. Since this first step to make an impact, Devin has continued working to develop projects that will ultimately help to make the world a better place.
During her time as a student at UNH, Devin has taken advantage of many life-changing opportunities. Some of those opportunities include joining Alpha Kappa Psi- the professional business fraternity on campus, competing and placing in the Holloway Competition- an innovation to market competition for undergraduate and graduate students at UNH, speaking at UNH alumni events in California, becoming a part of the Mel Rines Angel Investment Fund- the first and only undergraduate run Angel Investment group in the country, teaching a full-year course for first-year business students as a peer advisor, as well as being accepted into the Dean's Ambassador and Paul Honors programs.
Devin has also held various internships in the business, communications, and political industries that have allowed her to identify career interests. Through an internship with Calypso Communications she built foundational skills in business writing, press release distribution, content creation, and project management. With a passion for innovation, strategy, leadership, and relationship building she is excited to participate in the Fall 2017 University Innovation Fellowship Training Program in order to become an enabler of innovation on the UNH campus.
Related Links
Nicholas Stuart - University Innovation Fellow from UNH (2017)
Michelle Paradise - University Innovation Fellow from UNH (2017)
Nadia Fereydooni - University Innovation Fellow from UNH (2017)
Cheryl Fong - University Innovation Fellow from UNH (2017)
[Kevin Marc Dioneda]] - University Innovation Fellow from UNH (2017)
Christin Badylak-Reals - University Innovation Fellow from UNH (2016)
Shawn Venti - University Innovation Fellow from UNH (2016)
Sam Warach - University Innovation Fellow from UNH (2016)
Matt Griswold - University Innovation Fellow from UNH (2016)
About the University of New Hampshire - Learn about the innovative culture and Landscape Canvas
---
---