Fellow:Dennis Pötter
Jump to navigation
Jump to search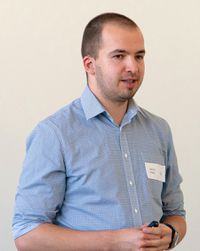 Dennis Pötter is a University Innovation Fellow candidate and an undergraduate medical student at the Technical University of Munich (TUM).
Originally Dennis is from Dortmund, a city in the west of Germany. After school he took a gap year to do voluntary work in the social sector. In 2014 he decides to study medicine and moved to Munich in the south of Germany. At first, he studied medicine at the Ludwig Maximilian University of Munich for two years before he continues medical studies at the Technical University of Munich. At the TUM he was exposed to the University Innovation Fellows.
Dennis early knew he wants to work in the social sector he uses lots of time for extracurricular activities. In 2015 he became member of Campus for Change, a student non-profit organization in Munich with the aim to empower students starting social projects all over the world. Two years later he was elected to the Board of Directors of the organization. Moreover, Dennis engaged at Malteser and teached first aid to students and workers. From 2019 on Dennis worked as an e-scout at the medical faculty at TUM to improve digitalization of education.
The first interest Dennis ever had was about science. He started early to explore and investigate nature and focused more and more on the human body and pathogenesis. Shortly after starting studies he discovered his interest in entrepreneurship and attended different courses focusing on healthcare entrepreneurship. The lack of interdisciplinary offers motivates Dennis to improve the exchange of different disciplines in order to make the students explore their studies from another perspective.
Related Links

Technische Universität München 
University Innovation Fellows
---
---