Fellow:David Axelrod
Jump to navigation
Jump to search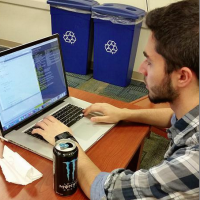 David is a junior at Binghamton University who spends most of his time working on side projects. He has been actively involved in the Entrepreneurship Learning Community for 3 years and is the TA for the class that all students in ELC have to take. He is also involved in Binghamton's software club, HackBu, where he helps raise tens of thousands of dollars for their two hackathons. 
David started his path into entrepreneurship without technical experience. He spent hours at the beginning of freshman year just talking about ideas but found that executing against a good idea is a million times more valuable than an idea alone. He spent hours every day after class and all the time during break using sites like teamtreehouse.com and lynda.com to learn various stacks.
David is in the process of developing a platform for personal trainers called Tibah with another fellows candidate. Tibah helps trainers stay more on top of their clients and increase communication between the client and themselves. He always likes to have at least one side project and loves hearing about other student's projects.
---
---