Fellow:Danny Anderson
Jump to navigation
Jump to search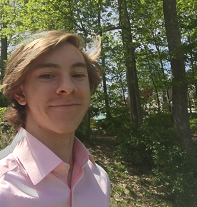 Name

Danny Anderson

School (Cohort)

University of Richmond (2020 cohort)

Majoring in

Philosophy, Politics, Economics, and Law

Country

United States

Email
Bio
Daniel Rodrigo Anderson is an undergraduate student at the University of Richmond. He is studying Philosophy, Politics, Economics, and Law (PPEL). This interdisciplinary program studies public policy solutions and social challenges through both normative and empirical lenses.
Danny was born in New Jersey, however has spent much of his life as an ex-pat. Holding citizenships from both Spain and the United States thanks to parents from each country, he lived in both Australia and Singapore before moving back to the United States. This international background has provided him with a truly international perspective that continues to drive his passion for political progress at all levels.
In April 2019, Danny joined the office of Virginia State Delegate Mark Levine, where he still serves an aide supporting the work of the Virginia General Assembly on criminal justice, education, and healthcare, among other state issues. This work included briefing Del. Levine on the advice of interest groups, crafting a better system for the flow of thousands of constituent emails and letters, and communicating with constituents. Danny has also volunteered for entrepreneur and nonprofit CEO Andrew Yang's campaign for President of the United States.
These experiences have given him a broad understanding of policy development and the public perception and needs that fuel it. As a new University Innovation Fellows candidate, Danny is excited to address the need to make public systems more innovative, from his university to the world.
Social media profiles
Twitter: @Dani_Rodrigo__ LinkedIn: https://www.linkedin.com/in/daniel-anderson-85568b18a/
---
---