Fellow:Daniel Mencio
Jump to navigation
Jump to search
Daniel is a Communications major, Computer Science minor at the University of Connecticut, and is from Watertown, CT.
Previously an Information Technology major at Western New England University, he was actively involved on campus in many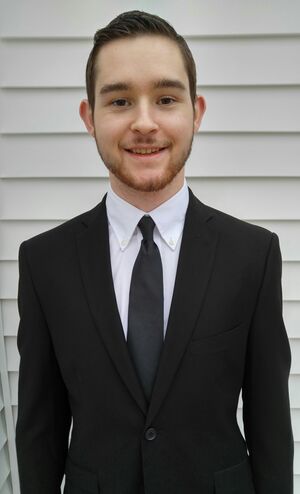 activities, such as a member of the Ultimate Frisbee team, Film club, and the Vice President of the Chemistry club. His Freshman year he was an active member in the Hackerspace club and participated in many original projects, such as building an AM radio and a plasma globe out of a lightbulb.
At UConn, Daniel joined their University Fellows team and assisted in their major event, hosting a hackathon (HackUconn 2017). He is currently in contact with UConn Fellows and getting the Fall 2017 semester underway.
At home, he has had several jobs including working as a driver helper for UPS, a sales associate at Staples, and is currently employed at Watertown Golf Club as a bag room attendant, as well as with Power Unlimited, Inc. as a Helper Electrician. He attended Holy Cross High School in Waterbury, CT and was a member of the National Honor Society while there.
Related Links
Western New England Student Priorities
University Innovation Fellows
Spring 2016:
Daniel Mencio
Spring 2014