Fellow:Christopher Eichler
Jump to navigation
Jump to search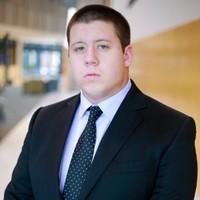 Christopher Eichler is a University Innovation Fellow at Youngstown State University. He is currently studying Accounting and pursuing a certificate in Nonprofit Leadership. His heavy involvement on campus led him to be an ambassador for the UIF program at Youngstown State University. This the first year that Youngstown State University has had the honor to be a part of the UIF program.
Chris is involved with many organizations at Youngstown State University including: Beta Alpha Psi, Institute of Management Accountants, Student Investment Fund, the Ohio Society of CPAs (student affiliate) and the Student Nonprofit Leadership Organization.
He has always been intrigued by how to improve the campus and promote innovation to fellow students. The University Innovation Fellows program has helped him expand outside of student organizations to help promote design thinking and I&E on campus.
School WIKI Page:
http://universityinnovation.org/wiki/Youngstown_State_University
Strategic Priorities:
http://universityinnovation.org/wiki/Youngstown_State_University_Student_Priorities
Landscape Canvas:
https://docs.google.com/spreadsheets/d/12LIG6z5NFipfzIrjLmVQIYYW37aPrSUxNX7cyTSKBS0/edit#gid=0
Group Video:
https://www.youtube.com/watch?v=tn5iA80oKKQ&feature=youtu.be
---
---