Fellow:Chris Woodle
Jump to navigation
Jump to search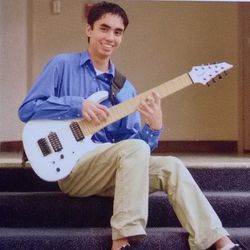 Chris is a student at Florida Institute of Technology. Because of his high school experience at the Center for Advanced Technologies, he has aspired to search for elegant solutions to complex problems. Chris has experience putting the many moving pieces together at Melbourne based internet of things startup company Droplit Inc.

As a volunteer at the newly founded non-profit, Project Based Learning, Chris helps teach a variety of skills to people of varying ages. This includes creating classes that involve a hands-on and interactive teaching style. These classes usually focus around creating software, graphic design and presentation, prototyping techniques, and other topics of similar nature. He also helps students and enthusiasts design and build projects at the Space Coast Fab Lab.
He has several hobbies, the most notable being lutherie: designing and building stringed instruments. He builds electric guitars with a focus on ergonomics and long term player health. He is a musician at heart and plays extended range guitar, as well as upright bass in orchestra and jazz band.
Related Links
Florida Institute of Technology]]
Florida Institute of Technology Student Priorities
Fall 2015 Leadership Circle
Spring 2016 Leadership Circle