Fellow:Chris Ballentine
Jump to navigation
Jump to search
​Christopher Ballentine is an undergraduate student at Florida Institute of Technology pursuing degrees in Electrical, Mechanical and Computer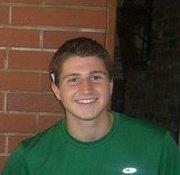 Engineering. He is driven to inspire innovation amongst all persons. He believes that an individual's capabilities are far greater than they believe and enjoys teaching them how to tap into it. Chris holds a job on campus at the Electronic Support Lab where he has assisted students in areas ranging from CAD software to electronic circuit design, he once even helped someone find an apartment near the school.Chris is involved with many hands-on projects at Florida Tech.  Between quadcopters, wireless power transmission, non-mechanically controlled drive systems and chemical free batteries he still finds time to participate in on and off organizations and societies. For the past year, Chris and a team of students developed a product that has shown great progress. Currently the team is in the process of forming a company around the product in hope to aid hobbyists around the globe.
A couple other interesting facts about Chris are the reasons why he's at college and his plans for after college. Chris attends Florida Tech. not only to expand his knowledge, but to create connections with generations of highly educated students, professors and faculty. These connections will serve as the basis for whom he desires to hire. After school he plans to start his company and bring in many of his connections as employees.  His goal to the company is to deliver a facility to foster the growth of innovation and design. His goal to his employees is to give them the opportunity to harness their creativity and passion in a way that suits them for maximum efficiency.
Being allowed to work with the UIF's has Chris exciting to start implementing more innovative, entrepreneurial and hands-on activities by working with the current and upcoming clubs and groups to bring together student innovation. He wishes to express his inspiration and create a forward change on his campus.
Related Links
Florida Institute of Technology
Florida Institute of Technology Student Priorities
Fall 2015 Leadership Circle
Spring 2016 Leadership Circle