Fellow:Chase Brown
Jump to navigation
Jump to search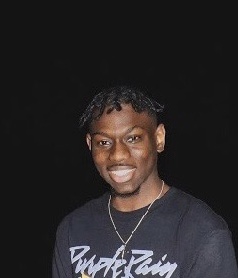 Name

Chase Brown

School (Cohort)

Oakwood University (2021 cohort)

Majoring in

Business Marketing

Country

U.S.

Email
Bio
Live in Worcester, Massachusetts with a single mother. Born and raised in America, but two of my parents are from Jamacia.
EDUCATION
Oakwood University                                                                                                                  Huntsville, AL
Bachelor of Business Administration in Business Marketing                   Expected Graduation Date May 2024               
Abby Kelley Foster Charter Public School                                                                          Worcester, MA
High School Diploma                                                                                                                         May, 2019
WORK EXPERIENCE

Oakwood University                                                                                                                Huntsville, AL
Team Member at Bistro Tree House                                                                                           2020 – Present
·       Washed and cut various foods, to prepare for cooking or serving
·       Provided service to customers as needed
·       Assisted cooks with various tasks as needed
·       Complied with standard portion sizes, quality standards, policies and procedures while preparing food
·       Kept all stations sanitized and cleaned each day
Finish line
Sales Associate
·      Fulfil customer needs on what type of shoe they want
·      Make sure store is clean, clothes folded properly, and shoes are clean and polished
·      Send sales for online orders to package their item organized and presentable
·      Know how to use the cash register

VOLUNTEER EXPERIENCE

Pleasant Street Seventh-Day Adventist Church                                                                 Worcester, MA
Sound Mixer                                                                                                                               2017 – Present
·       Performed sound checks before services
·       Operated the sound mixer to ensure sound quality
·       Built and maintained relationships with church administrators

Vacation Bible School - Staff Member                                                                                         2015 – Present
·       Led and supervised athletic games for 100 campers
·       Collaborated and assisted other camp staff members as needed
·       Operated sound equipment during the camp day
SKILLS
·       Skilled in Microsoft Word, PowerPoint, Google Docs, and Excel
·       Proficient in using FL Studio, Studio One and Pro Tools software
Achievements
Graduated high school and am in the works with top music producers and artists.
Social media profiles
Instagram: high_speed.chase
---
---