Fellow:Ceren Kocaogullar
Jump to navigation
Jump to search
Ceren Kocaogullar is a Candidate University Innovation Fellow who is studying Computer Engineering and Media & Visual Arts in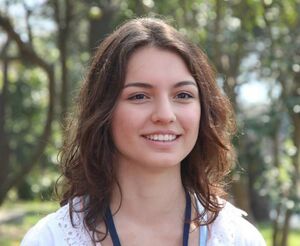 Koc University, Istanbul. Some of her focuses are machine learning, teaching methods of computer engineering, and visual design. She is a "GetAheader" in Google's GetAhead Program: EMEA 2017. Ceren is deeply dedicated about achieving gender equality in opportunities of learning coding as well as in computer engineering. Her personal efforts in this subject led her to be the Vice President of ACM Women Student Chapter of Koc University.
Ceren has been a teaching assistant of COMP130 Introduction to Java Course since her second term in the school. She also has been teaching coding to high school students as a section leader in CSBridge Stanford-Koc University Java Summer Course. This experience led her to think thoroughly about the teaching methods of coding to students from different disciplines. Her efforts contributed to the recent essential curriculum change of the course. She is currently leading a project about making a computer game for teaching the essentials of machine learning to high school students. 
Kocaogullar is passionate about music and is serving the current maestro of the Koc University Orchestra. She makes musical arrangements and compositions, and plays three instruments. She broadcasts a jazz music program in Koc University Radio. Her lifetime goal is to combine her abilities and interests in music, visual arts and computer engineering to create value for people's lives by building useful, enjoyable and human-centered softwares.
---
---