Fellow:Carol Glass (2021)
Jump to navigation
Jump to search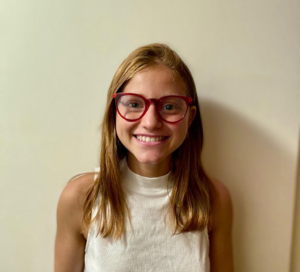 Nameː

Carol Glass

Date of Birthː

09/02/1999

School (Cohort)ː

Universidad Católica del Uruguay (2021 cohort)

Majoring inː

Computer Engineering

Countryː

Uruguay

Emailː

carglassm@gmail.com
Bio
Carol Glass is a uruguayan student at Universidad Católica del Uruguay. After studying two years for a major in Food Engineering, she shifted towards a major in Computer Engineering and so she is in her first year now. Her main goal is to combine the food industry with the programming world. She is a very ambitious, responsible and sociable person who is very good at working in a team and under high pressure conditions. Carol lives in Montevideo and decided to be a UIF candidate because of her interest in innovation and making real changes in the world as she has always jumped to every opportunity that lets her broaden her horizons.
Apart from university, Carol has been part of a non profit youth movement for 5 years. She has been a youth leader there using a different technique of educating which was non-fromal education. Her organization is run by people not older than 21 years old. Moreover, currently she takes part in a project called Proyecto Shoa. It consists of a Uruguayan organization which main goal is to transmit the history of the Jewish holocaust to sophomore students and invite them to reflect on their impact on the future of society, they look forward to transmitting a message of coexistence, tolerance and equality. The means to achieve it is through educational activities in public and private high schools.
In 2018 she lived for 10 months in Israel where attended a leading program for developing young leadership and empowering Jewish communities around the globe. Furthermore, there she also attended an Israel Defense Forces basic training program for young Jews offering an opportunity to experience the IDF for one month.
During her spare time, she loves going to the gym, crossfit and functional training take an important role in her daily routine. She also takes part of the university soccer girls team. Spending time with her family and friends is something she loves as well as watching TED talks for hours. Carol looks to the future with eagerness and enthusiasm. She wants to continue meeting new people and working on a team while travelling around the world.
---
---