This site will go under maintenance from 25-11-2020 to 30-11-2020. It might not reachable during the maintenance period.
Fellow:Bryce Fender
Jump to navigation
Jump to search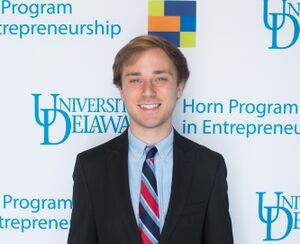 Bryce is a University Innovation Fellow from the University of Delaware and a social entrepreneur helping to revitalize Wilmington, Delaware through a social impact real estate investing startup called Wilminvest. Wilminvest is able to buy, renovate and rent/sell vacant properties to community members and organizations through the multiple public-private partnerships they have formed in City of Wilmington. He started Wilminvest with two of his childhood friends and focuses on the social impact aspect of the business.
At age 16 he founded his first venture - The Red Clay Interscholastic Student Government. This organization was founded to unite students at schools that would have otherwise never had relationships, and thus dissolve prejudices held about the schools. By the time he graduated the organization had over 30 members and still exists within the school district to this day. This experience not only led him to Wilminvest, but to coordinating events and managing client relationships with Gable Music Ventures, market research and national outreach with Social Contract, various leadership programs and a summer as an Operation Specialist for Summer Collab, all in his high school and college career. Additionally, when he was 17 he earned Boy Scouts highest rank, Eagle Scout. He's currently pursuing a bachelors of science in Marketing and Management with minors in Spanish and Social Entrepreneurship at the University of Delaware.
Related Links
Landscape Canvas:
University of Delaware Student Priorites
Fellows:
Bryce Fender
---
---