Fellow:Brendan Cooper
Jump to navigation
Jump to search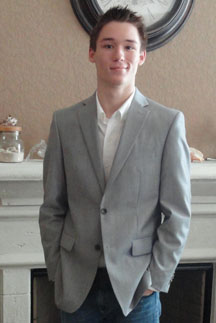 Brendan Cooper is a University Innovation Candidate and Mechanical Engineering student at Texas A&M University in sunny College Station, Texas. His experiences as an engineer have driven him to pursue a career that will confront issues of both design and aesthetics. As an intern for VT-DRB Aviation Consultants, Brendan was able to develop and define skills that will help him be prepared for the future of his choosing, particularly in design. Beyond this working education in design, he was also able to gain insight on the nature of the manufacturing process, helping to further expand his understanding of the engineering process. With these lessons learned and experiences gained, Brendan continues to forge a path that will fulfill his expectations of himself and his capabilities. In the workplace, he hopes to engage himself in product design and development as it relates to engineering.
Brendan is a creative and constructive person that works hard on whatever he is presented. He is a leader by example and is dedicated to perfectionism, even in the face of hardship. This being said, he also knows how to have fun and enjoy what makes life worthwhile. He is an avid traveler and lived overseas in England for an extend amount of time. From that experience he was able to glean lasting friendships and a unified cultural perspective that have contributed to his success thus far. He also enjoys hobbies such as model construction, drawing, and last but not least, swimming. Brendan is primarily a good learner, and strives to use that facet of his personality for the betterment of his society.
Being a University Innovation candidate does not weigh lightly on Brendan. The opportunities presented by such an organization promise to be outstanding, and his devotion to accomplishing true change within his campus is great. He wants to encourage the growth of as many innovative and creative thinkers on his campus as he possibly can. His enthusiasm, coupled with the platform of the UIF, will ensure that his aims are accomplished.
Related Links
Texas A&M Student Priorities Part II
Brendan Cooper