This site will go under maintenance from 25-11-2020 to 30-11-2020. It might not reachable during the maintenance period.
Fellow:Ben Ferguson
Jump to navigation
Jump to search
Ben Ferguson is an undergraduate student at North Dakota State University (NDSU) pursuing a Bachelors of Science in Mechanical Engineering. Ben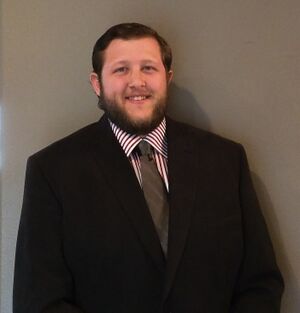 began as a Computer Science major in 2007 and after taking a break from school during which he ran a successful custom computer building business, returned to NDSU to pursue his degree in Mechanical Engineering. 
Ben has been an active member of Bison Microventures, a student research organization at NDSU overseen by Dr. David Wells. Through this organization, Ben and two of his research partners started Advanced Bone Technology; a company developing a new type of artificial bone as a test platform for device, proceedure, and training development. This team's work has been recognized by Forbes 30 under 30 and will be presenting at the VentureWell Open Minds conference in Oregon in March 2016.
Ben is currently involved in promoting the Drone Focus 2016 Student Pitch Contest with other UIF students at NDSU that will be taking place in June 2016. He is looking forward to assisting other students in being innovative and promoting entrepreneurship as a new University Innovation Fellow.
Related Links
North Dakota State University Student Priorities
University Innovation Fellows
Spring 2016:
Fall 2015:
Fall 2014:
Fall 2013: