This site will go under maintenance from 25-11-2020 to 30-11-2020. It might not reachable during the maintenance period.
Fellow:Autumn Turpin
Jump to navigation
Jump to search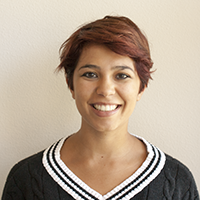 Autumn Turpin is a rising junior at Stanford working towards a B.S. in Engineering, Product Design. She joined the Designing Education Lab in the spring of 2014, and is currently working on a project regarding the Intro to Solid Mechanics undergraduate course. Her interests in education include retention of students in engineering majors and the changing effect of college applications on the high school education experience. Within engineering, Autumn is looking forward to beginning manufacturing classes. She loves art and drawing, and is interested in the way people interact with different products. Her favorite classes she has taken at Stanford include ME 110 (Design Sketching), PWR 1 (Speaking of Dreams), ENGR30 (Thermodynamics), and ENGR14 (Statics). 
Autumn's current favorite character is R2D2 (after having seen the Star Wars movies for the first time this year), and favorite book is the Hitchhiker's Guide to the Galaxy. She is currently beginning training for a half marathon, her first race since high school track and cross country. Her other interests include reading, science and art museums, and DIY crafting. She hopes to have many pets in the future, to have a hands-on job, and to design her own home and to make many of the things within it.
Related Links
http://universityinnovation.org/wiki/Stanford_University_Student_Priorities
http://universityinnovation.org/wiki/Stanford_University
Stanford University Innovation Fellows
http://universityinnovation.org/wiki/Capella
org/wiki/Autumn_Turpin http://universityinnovation.org/wiki/Autumn_Turpin