Fellow:Attiyah Lanier
Jump to navigation
Jump to search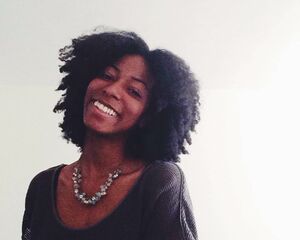 Attiyah Lanier is an undergraduate student at Howard University where she is pursuing her Bachelors of Science in systems and computer science.  Attiyah began her journey at Howard as an architecture major. She made the change to systems and computer science in order to bridge her passion for technology and creativity. 
Attiyah has been an active member of Engineers Without Borders Howard Chapter since her freshman year. As a member, she has helped her team make a success final visit to the Kenya village of Choimin. The chapter has recently secured a water sanitation project in rural El Salvador. They will be making their first implentation trip May of 2014.
Attiyah is looking forward to continuing to spread her passion for innovation and design as a new University Innovation Fellow.
Related Links