Fellow:Ann Delaney
Jump to navigation
Jump to search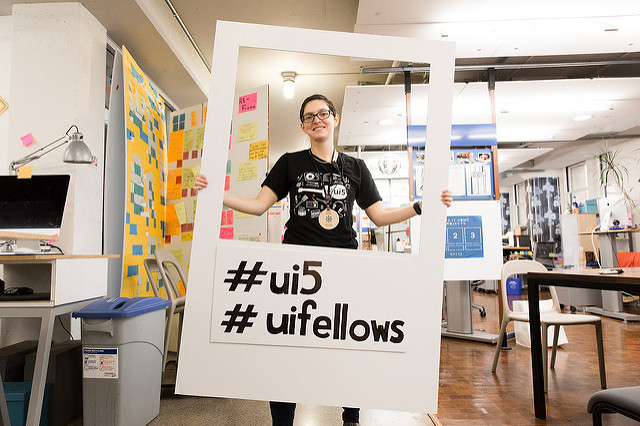 Serving as a UIF Since: Spring 2016
School: Boise State University
What she does now: SAGE Scholars Program Director & Intro to Engineering Lecturer
What that means: She runs a scholarship program and teaches first-year engineering students
Contact her about: Making (and how it can build a growth mindset), building culture and community in makerspaces, teaching design thinking (in engineering), interdisciplinary majors, what it's like to become university staff, knitting, laser cutting, Idaho (more than just potatoes out here!), chatting about what you're excited about!
Email: anndelaney@boisestate.edu
Phone: (208) 426-5982
Ann Delaney earned her Bachelors and Masters in Materials Science and Engineering at Boise State University in Boise, Idaho.  She is now the Program Director of the SAGE Scholars program, a National Science Foundaiton funded academic support, mentoring, and scholarship program for first-year engineering students.  The SAGE Scholars program is part of the Redshirting in Engineering Consortium, which also includes University of Colorado Boulder (GoldShirt program), University of Washington (STARS), Washington State University (STARS), University of California San Diego (ACES), and University of Illinois Urbana-Champagne (ARISE).  She teaches a course for SAGE Scholars, as well as a service learning Introduction to Engineering course which focuses largely on teaching the engineering design process.
As a graduate student, Ann worked in the Public Policy Research Center at Boise State, conducting research on the policy implications of nanotechnology and nanomanufacturing. As an undergraduate (also at Boise State), she did research with the Nanoscale Materials and Device Group, investigating how to use DNA as a programmable nanomaterial for disease diagnosis and engineering applications. As part of her graduate studies, in addition to working on policy-related research with her advisor, Dr. Eric Lindquist, she took several policy courses as substitutes to more traditional Materials Science & Engineering electives.
While Micron School of Materials Science & Engineering was very supportive of her interdisciplinary research interests and degree plan, her background as a Peer Advisor in the Engineering Advising Office came in handy when navigating the paperwork required for an interdisciplinary masters which mixed Materials Science and Public Policy. As a result of this experience, Ann is an enthusiatic advocate for students interested in interdisciplinary undergraduate and graduate educational paths.
As a University Innovation Fellow, Ann has worked closely with the College of Innovation and Design, which is a hub for interdisciplinarity and new educational ideas on the Boise State campus.  Ann has also developed a relationship with the MakerLab, housed within the Boise State Albertsons Library. She has received and given training on how to use the 3D printers, and has designed and printed custom parts as part of her research (and for fun). She enjoys the vibrant and collaborative spirit of this community, and has enjoyed doing her part to help the space grow. She is also passionate about culture-building in makerspaces and how making can help people develop a growth mindset.
Using the skills and knowledge that she learned through University Innovation Fellows, Ann co-organized and hosted a design thinking event with library staff and other students (several of whom are now also University Innovation Fellows) for Boise State students to design the future of makerspaces on the Boise State campus.  Students from many different majors across campus were brought together, introduced to the Design Thinking process.  These students were first asked to desing their ideal, "moonshot" makerspace with no constraints, then asked to prioritize what they would like to happen within the next year.  This student input was incorporated into a strategic plan for makerspaces on campus and has informed the growth of the MakerLab over the past year.  One of the first steps that came out of this plan was the introduction of a Vertically Integrated Project course, called Make It, where students received course credit for building and running an emergent makerspace within the College of Innovation and Design.
Ann was trained as a University Innovation Fellow in Spring 2016, and attended the Silicon Valley meetup in March 2016.  In January 2017, she was part of the UIF keynote presentation at the American Association of Colleges and Universities Annual Meeting in San Francisco.  She has helped host two Silicon Valley meetups as a "FAB" - November 2017 (ui5) and March 2018.
While her academic background has largely focused on engineering, Ann's interests are broad. In her spare time, she plays viola with a local amateur orchestra, Serenata Orchestra, and has volunteered with the ACLU of Idaho, organizing events such as speakers for Banned Books Week and participating in social justice events. Ann was Vice President of the Society of Women Engineers campus section for two years, during which time she helped to organize STEM outreach activities and trips to the SWE national conference.  She is now the SWE club advisor at Boise State. Ann enjoys hiking and skiing in the beautiful Boise foothills, cooking with her husband, playing with her mother-in-law's dogs, knitting, tie-dye, and reading.
Related Links

FAB Talk - November 2017: "The Most Important Part of Your Makerspace"
FAB Talk - March 2018: "Are you a maker?"
SAGE Scholars Program - Boise State University
Boise State University Student Priorities
University Innovation Fellows
Spring 2016 (Ann's Cohort):
Fall 2016: