Fellow:Andreas Hobelsberger
Jump to navigation
Jump to search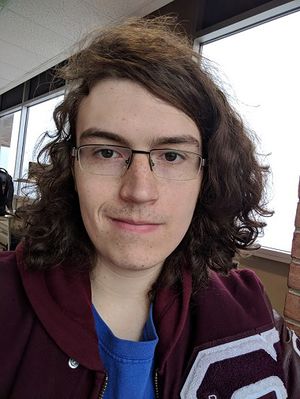 Andreas Hobelsberger is a University Innovation Fellow and an undergraduate student studying physics at Western Michigan University (WMU). He wishes to focus his studies on the topics of Quantum mechanics and particle physics so he can conduct research in these fields. In High School, Andy was part of a competitive robotics team, allowing him to further explore his love for the understanding of the fundamental mechanics of the Universe. During his first month of attending WMU, He joined the Innovation club. There, he first learned about the University Innovation Fellows. 
Andreas is involved with innovation club at Western Michigan University and regularly attends weekly meetings and volunteers to run the Makerspace, an open innovation and prototyping area which was set up by the previous Fellows. In his spare time, he enjoys learning about new ways to solve real-world problems. 
Growing up in a small town in Germany, Andreas was always interested in learning how things worked and improving them if possible. In 2013, he moved to Michigan and joined the Robotics team a year later, seeing the opportunity for growth. Throughout the rest of his High School career, Andreas was heavily involved with his team, earning three consecutive varsity letters and serving as team captain in 2016. Using his knowledge of physics and engineering he wishes to aid in the research of renewable energy sources to build a better future for all.
Related Links
Graduated Fellows: Persefoni_Lauhon, Mackenzie Preston, Zach_Crawford
Current Fellows:  Jill Puckett, Nathan LaWarre, Daniel Mozel, Saleh Mohamed, Megan Miller, Andreas Hobelsberger
University: Western_Michigan_University
---
---