Fellow:Andrea Repetz
Jump to navigation
Jump to search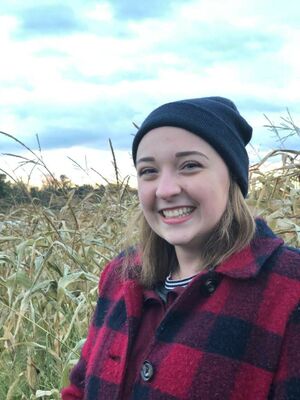 Andrea Repetz is a University Innovation Fellow and a Creative Writing major, Professional and Civic Writing minor at Susquehanna University. She hails from New Cumberland, PA, where she grew up with a passion for creative arts and serving others. From a young age, she has always believed in the power of learning by doing in order to make the best better.
At Susquehanna University, she keeps herself thoroughly involved. Andrea is a Susquehanna University Service Leader, a four-year internship and service-learning opportunity dedicated to youth development in the Susquehanna Valley. In this role, she works at the Lewisburg Children's Museum where she specializes in program development for events, camps, and field trip curriculum. Also, at Susquehanna, she is a member of Alpha Lambda Delta honor society, hosts her own radio show through WQSU, and is a member of the SU Paranormal Society.
In the future, Andrea hopes to teach and empower youth leaders to change the world starting in their own community. She plans to use her writing skills in a career focused on youth development, education outside the classroom, and community impact while still pursuing her love of stories along the way.
Related links
Susquehanna University Student Priorities
University Innovation Fellows
2015 Fellows: Ethan Eastwood, Alexis Gargin, Pierce Logan Perkins, Tiffany Richards
2016 Fellows: Hana Feiner, Aviel Stein,Rachel Tate
2017 Fellows: [Tonia Hall], Alexandra Haller, Damian Munoz, Daniel Yim
2018 Fellows: Leah Cieniawa, Brianna Murphy, Joseph Morante, Kyle Williams
2019 Fellows: Samantha Brumagin, Donovan Gayles, Elizabeth Ludwig, Andrea Repetz
---
---