Fellow:Allison Antcliff
Jump to navigation
Jump to search
Allison Antcliff, known as Alice, is a University Innovation Fellow who attends University of New Haven (UNH) and entered the program as a Freshman,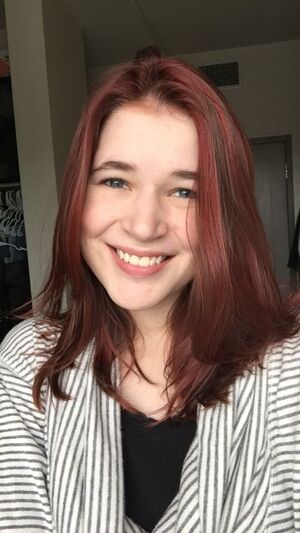 scheduled to graduate in 2021. She studies Health Sciences, and wants to minor in Chemistry. Alice was born in Chesapeake, Virginia, but has lived in many states as a Navy child and considers Ledyard, Connecticut to be her current home.

She spent ten years wanting to be a writer, but upon discovering her love for chemistry and gift for math, she decided to explore STEM career options. Alice still aims to write throughout her life, loving poetry, short stories, and research papers. She is involved with the W.R.I.T.E. club on campus, as well as the swing dance club, as she has used dance as a form of self expression and stress relief since childhood.
Throughout her life, Alice has experienced a number of illnesses and ailments, ranging from mental to physical, and through these experiences, she gained in interest in medicine. With her degree in Health Sciences, she hopes to go into pharmacy. She hopes to create and contribute to programs aiding those who cannot afford healthcare and medication necessary for a full, happy life.
---
---