Fellow:Alexandra Haller
Jump to navigation
Jump to search
Alexandra "Alessa" Haller is a University Innovation Fellow and an undergraduate student at Susquehanna University (SU) in Selinsgrove,Pennsylvania,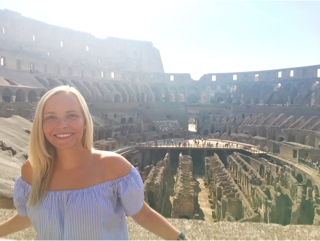 studying International Studies (with an emphasis in Diplomacy), Economics (with an emphasis in Global Economy and Financial Markets), and German.
At SU, Alexandra is a known work-aholic. Three majors weren't enough to keep her busy. She has four on-campus jobs and three leadership positions. She works in the Admissions Office as a Recruiting Counselor's Assistant. She is a Community Assistant (a Resident Assistant for Independent-living), a German tutor for the Modern Languages Department, and a Student Driver for the Health Center. She is a sister of Kappa Delta Sorority and serves as the Ritual Chair for the chapter and as the Vice President of Finance on the Panhellenic Executive Council. She is also the Vice President of Omicron Delta Kappa, the national leadership honors society for juniors and seniors. As can be seen, Alexandra likes to keep busy. She's a coffee enthusiast and fitness fanatic.
Alexandra also has a knack for cultures. English isn't her first language. Born in Köln, Germany, she emigrated to the United States when she was young and has lived in the Washington, D.C. area ever since. She has studied French and Spanish, and will be studying for a semester in Seville, Spain soon. In the past summer, Alexandra spent three months in Italy as an Au Pair to teach English and learn about the Italian culture. She loves food, good discussion, and learning about culture-shocks. Alexandra aspires to travel for work and possibly take the Foreign Service Exam to become a Diplomat in the near future.
Nevertheless, at any given time, you can find Alexandra laughing and conversing with faculty and friends. Excellent communication is what she values the most. She hopes to better strengthen the communication between students and the administration on campus to improve the atmosphere at her university.
Related Links:
---
---