Fellow:Alex Francis
Jump to navigation
Jump to search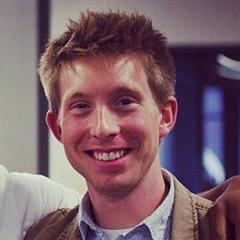 Overview
University of Wisconsin-Milwaukee
PhD Candidate - Mechanical Engineering
Anticipated Graduation Date (PhD): Spring 2017

University Innovation Training Cohort: Spring 2014
Personal
Academic
Graduate Research Assistant
University of Wisconsin Milwaukee Advanced Manufacturing and Design Laboratory (AMDL)
Master's Thesis
Experimental, Numerical and Analytical Characterization of Torsional Disk Coupling Systems [1]
PhD Research
Understanding Catastrophic Failure of electric vehicle Li-Ion Batteries through Multi-Physics Modeling
Personal
Isopoint Technologies
Founder of the microfluidic technology company commercializing the electrostatic particle trap (E-Trap) under patent US 8,465,967.
E-Trap uses electrostatic charge to isolate particles, much like restraining a particle within a fenced-in area.
E-Trap offers a solution to researchers enabling them to trap both micro-and nano-scale particles, providing cost- and time-savings, as well as better sample preservation over current technologies.
Collaborating with prominent university researchers and entities.
Contact: francis@isopointtechnologies.com

Awards:
2nd Place UWM Collegiate Entrepreneurs' Organization Elevator Pitch Competition
AlphaCore Solutions
Co-Founder of a company dedicated to helping small companies and startups with their engineering needs.
Campus UIF Activity
University Innovation Fellow Spring 2014
Campus Efforts:

3DS Springboard Organizer
TEDx UW-Milwaukee contributor
Design Thinking workshop coordinator reaching >1,000 students
President Collegiate Entrepreneur Organization
Makerspace development: Kulwicki Pitstop, Engineering Makerspace
New Building committee member: Lubar Center for Entrepreneurship
Related Links