Fellow:Aakash Sudhakar
Jump to navigation
Jump to search
BIO
Aakash Sudhakar is a current University Innovation Candidate of the University of Pittsburgh University Innovation Fellows program spring 2016 cohort.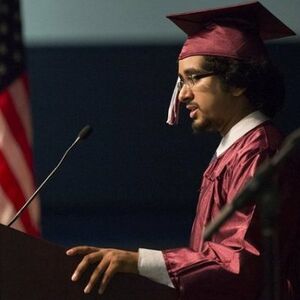 Aakash is formidably involved in Pitt's Innovation and Entrepreneurship community as well as the I&E community of Pittsburgh, representing himself through multiple clubs and organizations across campus, including the Biomedical Engineering Society, the TAMID Group at Pitt, Students for Startups, and the Innovation Institute Blast Furnace student startup accelerator program.
Aakash himself works with two student tech startups; one based in a professional networking platform that focuses on collaborative interactivity between networking connections and one based in a compact and versatile medical tech kit carrying essential tools and equipment for individuals suffering from diabetes and diabetes-based complications. 
Academically, Aakash is a sophomore bioengineering student through the University of Pittsburgh Swanson School of Engineering pursuing a minor in Industrial Engineering, a certificate in Nanoengineering and Nanotechnology, and a concentration in Medical Product Engineering. 
Aakash's motivations for being a current University Innovation Candidate and future University Innovation Fellow lie primarily in spreading the knowledge and potentials of the design thinking and creative confidence processes to students of all majors, demographics and areas of study. Traditionally, the design thinking process has been a primarily engineering mentality, and the creative process has been majorly influenced by concepts of entrepreneurship and business thinking. Aakash views the design thinking model as something with greater potential than as it currently is with respect to appeal to students of all majors; design thinking and creative confidence can be adapted to appeal to students outside of engineering and business. 
Related Links
University of Pittsburgh
University of Pittsburgh Student Priorities
University Innovation Fellows
Spring 2016:
Aakash  Sudhakar
Spring 2015:
Fall 2014:
Fall 2013:
Fall 2012: